For the room to stay organized and clutter-free, bathroom cabinets are a need. A large bathroom can occasionally be a fantasy as apartments become smaller over time. Therefore, a wall-mounted bathroom cabinet is a need for you if you amplify your bathroom in a small apartment. Here, we'll show you some clever, room-saving bathroom storage ideas that may keep your toiletries and other necessities organized without taking up any floor space. These are highly useful and can elevate the design of your bathroom to a new level. You can upgrade your bathroom with these 5 bathroom cabinet ideas that could steal the show in your home.
A Wooden Bathroom Cabinet for An Elegant Look
Marble and slate tiles were used in the interior of this bathroom to create a captivating contrast and give the room a dynamic appearance. The bathroom wall cabinet in black blends complimenting the decor and offers lots of storage. Additionally, we have placed an LED-lit shelf so that you can keep your candles, scent diffusers, and soap dispensers.
Making a striking contrast with a white bathroom wall cabinet
The elegant vanity area serves as the bathroom's main attraction. It has an overhead loft repository, cupboards, and drawers. The pull-out unit beautifully utilizes the corner space next to the wall. The white wall-mounted bathroom cabinet is made attractive by the backlit mirror, which illuminates the room. Slate tile redundancy is broken up by the white color, which also produces a stunning contrast. The bathroom's many storage choices improve its use and ensure that it is clutter-free.
Bathroom Sink Cabinet for A Clear and Clutter-free Look
Small bathrooms with limited space may benefit from this vanity unit. The teal handleless drawers complement the color scheme and add a modern touch to the space. A tall corner cabinet with sliding doors can also provide some extra storage. Your washing machine is cleverly accommodated in the area below. Due to this, your bathroom becomes functional. White and teal together give the bathroom a spacious appearance and a playful touch.
To Enhance the Glam Quotient of your Bathroom with a Tall Wall Mounted Cabinet
People who want to spend more time with their showers can use this functional bathroom. This room looks aristocratic, with golden fixtures and a backlit mirror. Our wall-mounted bathroom cabinet and vanity unit feature drawers for clutter-free storage of towels and toiletries. An aesthetic appeal is added to the room by the pink and white patterned tiles. This bathroom exudes luxury and can greatly improve your showering experience.
Wall-mounted bathroom storage mirror cabinets
Because it is hidden behind the mirror, this wall-mounted cabinet doesn't occupy space on the floor or walls. The simple design fits any-sized bathroom perfectly. Beautiful light reflections and the appearance of a larger area are produced by the enormous mirror. To further emphasize the vanity unit, wall sconces have been installed on either side.
Conclusion
According to your preferences and budget, our designers will assist you in creating an aesthetically pleasing and functional home interior. Bryce & Doyle is the leading designer of making your bathroom cabinets in Rochester, NY, stylish and unique.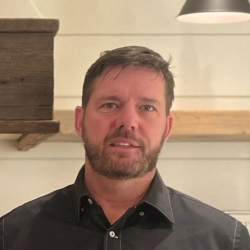 Latest posts by Tom Kilminster
(see all)